Continuing our conversations with insights experts at Dig, we decided to have a chat with Jill Orum, Executive Vice President of Dig's Chicago office. Jill comes with over 20-years-worth of experience in consumer insights and marketing strategy, during which she helped loads of brands in a variety of industries grow and foster innovation.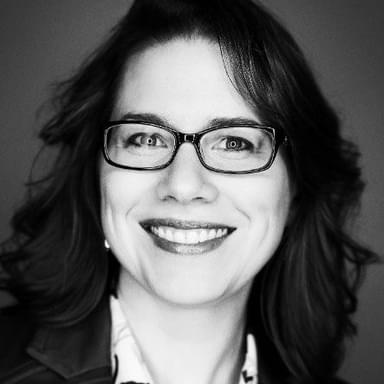 Jill shared her wisdom on how to make good research great, the importance of storytelling in consumer insights, and what her team does to make sure that their research input has a true business impact.
Q: Can you tell us a little about your background and your role at Dig?
I started my career working in Consumer insights and Strategy at Kraft Foods in the US and I worked there for almost 17 years. I started as an analyst and moved up the ranks over the years. It was a wonderful and amazing training ground in the world of consumer insights.

The way that I tend to approach the work I do today is often through the lens of having had so much client experience. I benefit from intuitively knowing how information is going to get used and what kinds of decisions it's going to influence. During those years at Kraft, my role was to be the intermediary between firms like Dig and my management team in the company. I was that person who helped translate the research findings into recommendations. So that's how I'm wired.

Some years later, I also spent time working in a brand strategy consulting firm. This experience gave me a different perspective because I was leading the team that did the research that fueled the consulting projects. But we weren't a research firm, we were a strategy consultancy that happened to do research as part of the engagements. And so there, again, a lot of what we did was to make sure that the research insights and information were being elevated and applied to drive strategy.

I then spent a few years doing similar work as an independent consultant before coming to Dig in early 2020, to launch our US operations and start a Chicago office. 
Q: What kinds of challenges do researchers face right now?
There's a challenge that exists across the industry which affects both research providers and their clients. It's the inherent tensions between trying to achieve research that is "good, fast and cheap". Or, as it is often said, "pick two, but you can't have all three at once."

There's been a really big focus in recent years on "fast" and "cheap." It relates to the DIY platforms, agile research and other forms of leveraging big data more efficiently in less time and at a lower cost. And that's great. – There's definitely a role for that kind of work and I've seen some examples of terrific insights that have been found quickly in this way.

At Dig, we have our own approaches to efficient and agile research, but I think especially given the kinds of strategic research we often do within Dig, it's that relativity of "good" that becomes the real sticking point. How do you make sure research is not just good, but great? 

When you talk about the impact on businesses and decision-making, that's where I think you need the "great" part of that bundle - i.e. being able to build in the time and resources necessary to translate the research from basic findings to strategic implications and recommendations, and to help the client team take action against the research insights. Successfully elevating the research to that next level takes thinking time, iteration and a lot of collaboration. 

Unfortunately, client timing and budget limitations often diminish our ability to do this as fully as we might like. But, perhaps the opportunity with technologies and platforms that enable more efficient research is less about turning a research project around in warp-speed timing, and more about creating more time and space to in fact do the more value-added analysis we'd all love to be doing. I think this embodies the mentality we have at Dig – getting too great, while also being smart and efficient in how we work. It's not easy, but is a goal we continuously strive to achieve.
Q: What are some of the common blockers to implementing research within a client's organization?
Very related to my previous point, not being able to fully invest in analysis and elevate the findings can make the research anemic, it can drastically impede our ability to influence and impact the client organization. If the information just comes off as being interesting or confirms existing beliefs, that may not be helping to advance the level of insights and understanding within the organization. So that can result in research either not being implemented or even if it is implemented, it's focused on more tactical changes.

There's also the topic of storytelling and I think there's two facets of that in our work. Clients commonly think in terms of how we can use storytelling to bring to light our consumer or what they're experiencing within the category. And while that's important, there's also an aspect of storytelling that relates to how we present and communicate the research information and insights with our client teams. I tend to think clients aren't always seeking this, but value it greatly when it's done well.

Humans are wired to remember things better when they listen to a story. And when they understand a story, it gets more ingrained and remains top-of-mind. Storytelling isn't just about bold headlines and phrases, or pretty pictures. I think there's another aspect of it, which is about figuring out how you can go to a client, especially if it's senior leadership, and tell them the story of their business and customers, and the trajectory that they're on. It's about guiding them through their competitive landscape, explaining problems and risks they face, arming them with knowledge or a solution that will help them hurtle past that risk and succeed, and steering them toward tangible actions they can take. 
Q: What do you think makes an insight actionable?
I think a lot of it comes down to making it tangible and credible, and that can mean different things. For example, in certain types of projects, after most of the analysis is done, I'll ask myself or my team "Where is the money slide?". What I mean by this is where in all of the analysis are we summing up the potential impact of the research learnings in terms of the impact on the business, ideally framed in terms of dollars and cents. 

For example, you could say "Here's the size of these different consumer segments and here are the ones you should prioritize". But this data becomes more actionable when you go further and say "There's a percentage of the population who should be your primary target. And they tend to buy your category this often and they pay this much for it. And now, if you increase your share among that segment by X amount (even if it's just a hypothesis!) that equates to this amount of money". Ultimately, our goal is to help our clients grow their businesses. Wherever possible, I want to make it abundantly clear how the research learnings, if applied, can do just that.
Q: How do the client service tools that Dig uses contribute to actionable research? 
First, I think many of our internal analytics capabilities, be it a Share of Choice simulator, TURF analysis, or Virtual Market study as a few examples, contribute to more actionable research. Our analytic outputs are hugely impactful and not something that every firm does in the same way or makes as readily available to clients. These analytic tools help to make some of our output very tangible for clients. Importantly, they also allow us to further customize our recommendations to the unique dynamics each client is facing.

For instance, our simulator tools allow us to start with a modelled "optimum" scenario, but then modify it further to reflect any of the client's realities in terms of feasibility, financial considerations, or other constraints. We can sit down with our clients and work through potential solutions jointly, yet in an easy, turnkey fashion. We can make sure we come up with the best recommended scenario that can actually be implemented by our clients.

As another example, one of the things we often do when completing segmentation research is to work with our qualitative team to conduct follow-up 1:1 interviews among the segments identified as strategic priorities. This added qualitative richness, can further extend the ability of the client teams to fully comprehend the segments.

We also sometimes produce videos from those additional interviews. which once again helps to bring those segments to life. It's one thing when a client learns about their customers through the data, but it's another thing when they also hear it from them more directly.

This also relates to my earlier point about storytelling; we've seen our clients love these videos. They use them a lot internally. And that becomes a great mechanism to get more traction with the research outside of the core team. Not everyone in the company has the time to read a 50-page report but everyone can watch a five-minute video. And so, it helps to take that research and spread it out across the organization, which of course leads to more activation and application of that research.
If you want to learn more about our perspective on storytelling, and how great research speaks to business impact, check out one of our latest articles.