If you're even a bit familiar with project management, you're probably familiar with the diagram below.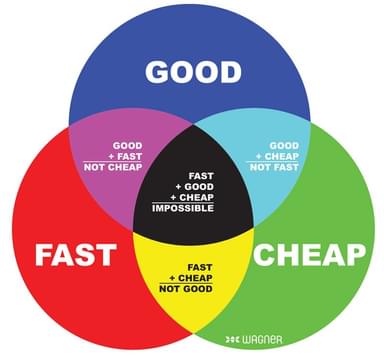 The diagram lays out the different project outcomes: good, fast and cheap. The point being made (bluntly) is that you can never have all three - fast, cheap, and good. You will, inevitably, have to trade-off on at least one of the above to get the other two. So:
Cheap + fast = low quality

Good + cheap = longer wait times

Fast + good = high cost
This same project management principle has often been applied to traditional market research - e.g. if you want to get (good) high quality data, relatively quickly (fast), you'd have to pay more (not cheap). 
But the market research space has come a long way. With more agile and AI-powered research platforms getting data, at a relatively low cost and in a matter of hours has given companies more opportunities to make consumer-centric decisions. Notice we didn't mention the quality of that data, though - we think there's more to be done on that front.
Change and Market Research
Consumer behaviour has always changed with the times. Whether the world is experiencing a major economic crisis, a global pandemic, or a ground-breaking tech advancement, people adjust accordingly, adopting new habits. 
The emergence of mobile technologies way-back-when is one of the factors that has impacted people's habits and priorities most. Consumers have come to value the convenience and flexibility that mobile offers them. They've become more technologically-savvy and find it easy to multitask. They've also become pretty addicted to their phones, but that's a topic for another day. 
But despite the fact that humans find ways to adapt to new ways of connecting with friends and family, and even communicating (emojis, anyone?), market research is still playing a bit of catch-up. While we've fixed the traditional model that meant research required high budgets, longer execution times and a whole heap of people and resources, many agile research platforms and consultancies still force respondents or customers to answer questions in ways that make giving honest and considered answers challenging. They're still leveraging survey methods that aren't in sync with the way that people use their phones and engage with brands.
But we're fixing to change that. And while the tragedy of COVID-19 can't be overlooked, the global pandemic has forced companies to embrace a predominantly virtual way of understanding target audiences. 
COVID-19 and Market
The pandemic has forever impacted the way businesses attempt to understand consumers, leaning further on virtual-first research methods and connecting with consumers differently than they had in the months previous. 
And for good reason; shoppers stocked up on cleaning and non-perishable products, students and workers moved to online conferencing apps, Clubhouse made an appearance, and TikTok became a worldwide phenomenon. Our lives changed drastically at the start of the pandemic. 
The constant shifts in consumer behaviour meant that companies had to collect data in an iterative way. Instead of setting up a comprehensive study once a year or once a quarter, researchers were forced to divide up their tasks into many studies on a weekly or quarterly basis, allowing them to design, test and adjust their projects quickly. People's needs and preferences were changing so quickly, they had to check in regularly to assess that change.
This change can and should force researchers to consider not just the frequency at which they're gathering insights, but howto breathe new life into the respondents' experience of answering a study.
Prioritizing the respondent experience doesn't have to be so hard  
With AI-enabled research platforms and agencies' stacked analytics team, gathering fast and cost-effective insights is the norm. Now, it's time to consider the quality of that research. And the only way to do that is to optimize the respondent experience. 
We've built a SaaS research platform Upsiide, and taken great care to create a mobile experience on Upsiide that mimics the way people use their phones in their day-to-day life, while also ensuring the insights are genuinely useful for our clients.
The platform itself leverages learned behaviours from mobile devices like swiping (thank you Tinder!), scrolling (Instagram, we see you) and multi-touch for zooming in and highlighting. For example, to help businesses test a bunch of ideas at once, respondents see each idea one at a time and swipe right if they like the idea, and left if they don't. Once they've swiped right on two ideas, they'll be asked to trade-off against two of them. This process continues until each idea has been reacted to. Not only is the mobile experience easy for respondents, but it delivers insights that are far more actionable.
As one of our clients put it: 
The forced choice methodology doesn't just tell you whether consumers like or dislike an idea, to me it simulates the real world. What we want to understand is buying choices - we know shoppers are faced with buying choices at shelf and online. Understanding how they make decisions and understanding that trade-off is far more powerful than understanding general appeal.
Remember we mentioned emojis? In an effort to continue to prioritize how respondents communicate, we've introduced a brand-new emoji answer option in its latest release. Respondents can now tell us how they feel about an idea, using 24 emojis that serve as answer options. The 24 emojis have been selected based on Plutchik's wheel of emotions. 
We're also optimizing the respondent experience when it comes to online shopping research. Here's what Kevin Hare, EVP at Dig Insights, told us about how his team leverages smart tech to collect better quality responses from respondents:
We've been using our Virtual Market e-commerce shopping environment more now than before Covid-19. This simulated shopping environment mirrors a typical e-commerce site and the consumer respondent simply shops the products in much the same way they would in real life, like on Amazon or Walmart for example.

This technology removes the monotony of exposing consumers to new product ideas in a way that doesn't mirror their lived experience. Instead, the Virtual Market creates a more engaging environment - one they're used to when online shopping. It is incredibly fast and easy to execute these studies.
Kevin also told us how his team adapted the research procedures in the midst of the pandemic to improve the respondent experience.
To ground people in the context of the types of questions we're asking, we've added more screening and landing pages between questions. In addition to Virtual Market, we're also seeing a huge increase in online qualitative exercises, like in-depth interviews over Zoom, short video responses, or self-completed mobile ethnography. Traditional in-person qualitative research was not an option immediately after Covid-19 hit, however, the continued use and openness from both clients and consumers to participate in qualitative research has been great.
Agile market research platforms showed us that research can be fast and cost-effective. But in order to be truly good, the respondent experience needs to move into the real world, where ways of communicating have changed. We can't force traditional survey methods onto a mobile device and expect them to continue to work, much like how the same ways of understanding people don't hold up during a global pandemic. 
And in our eyes, that's how we get to Cheap, Fast, and Good.