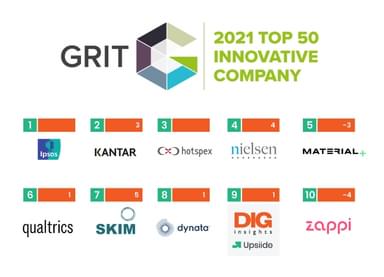 We're so proud to announce that Dig Insights and our Upsiide platform have ranked 9th on the GRIT list of the Top 50 Most Innovative Suppliers for 2021, another year in the top 10.
When referencing lessons that can be taken from this year's top 10 businesses, Greenbook's analyst notes that Dig is interesting because it's "a relatively young company that has evidenced incredible savviness in building brand awareness, while also earning consideration as an innovative company through a steady stream of groundbreaking new product releases."
Much of the success of Dig's approach to innovation is seen in the automated solutions we're building on Upsiide, our research technology platform. The vision for Upsiide is spear-headed by Frank Beirne. When referencing the exciting new product releases that have come out of Upsiide in 2021.
We want our platform to drastically simplify and automate the process of doing innovation research for everyone while still ensuring the rigour of the research process. We've had to re-think how someone that might not have a research background can still quickly test ideas and easily interpret the results.  No one has approached the problem in the same way we have, and that's an exciting place to be.
Co-Founder & CEO Paul Gaudette notes that Dig has seen significant growth and is continuing to challenge the status quo:
First off, thank you to all the clients, our partners, our employees, and all those in the industry who have supported us throughout our journey.  As we continue to quickly expand and grow both our technology offerings through our Upsiide platform, and our consulting services, we have proven our ability to compete against top companies in our space. Our mission to provide clients with innovative approaches and redefine the approach to market research has allowed us to quickly climb the list of Top 50 Most Innovative Suppliers and we look forward to continuing that trend in the years to come.
We also came it at #7 on GRITs list of Top Full Service Suppliers.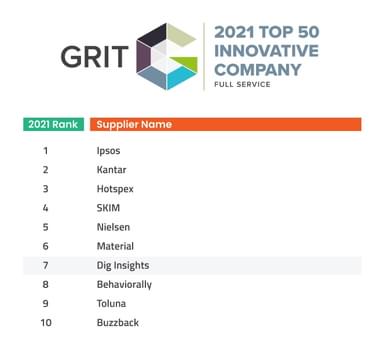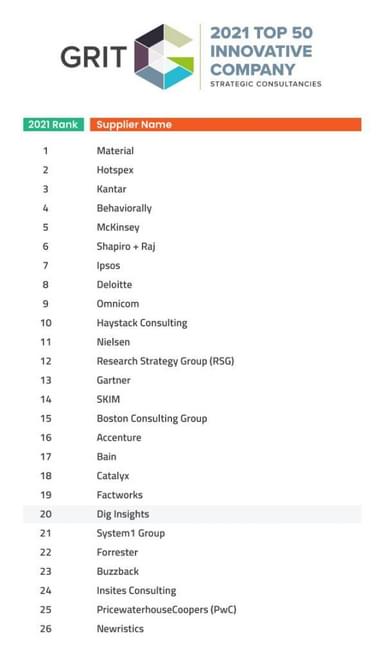 We can't wait to see what the future holds for Dig, and are proud to be in such great company.