The inside scoop on the next generation of consumers.
Extremely individual and incredibly influenced could be the tagline for Gen Z. Born between 1997 and 2012, they are the first cohort to have grown up with the internet at their fingertips. Each generation has its own unique traits that manifest in their consumer habits.
We set out to discover how this generation really feels about Quick Service Restaurants (QSRs), what routines they have built around consuming food and beverages from them, and what role the internet plays in their ordering behaviors. 
Before you dive into the data - we wanted to highlight a particularly interesting aspect to Gen Z's ordering habits; limited-time offers (LTOs) and menu innovations are highly relevant to roughly 1 in 5 Gen Z. So to succeed, you need to really understand what these experience seekers are looking for. This is an opportunity for targeted research and potentially targeted messaging.
Data from 1000 consumers in USA + Canada aged 18 - 26, surveyed July 2023
Treat-yo-self
Food plays an important part in the lives of Gen Z, with many routines built around its consumption. 76% of people we surveyed said they order menu items to treat themselves after a hard day at work or school (we know the feeling), and 61% order menu items when they're with a friend group just to socialize with them, even when they're not hungry.
Consumers that agree or disagree that they order menu items to treat themselves after a hard day at work or school (%)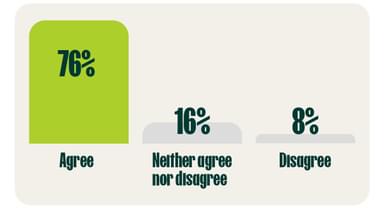 Environmentalism and ethics.... meh
While many people associate Gen Z with environmentalism and a greater consciousness surrounding their impact on the planet, only 28% of those we asked shared that they were vegan, vegetarian, or plant based, with 57% reporting no dietary restrictions.  
Plus only 59% of respondents looked for QSRs that aligned with their values, e.g. restaurants that were sustainable or ethical. When we asked about favorite places to order from, Chick-Fil-A - a chain that has caught heat in the past for their strong political stances - came out on top in terms of loyalty. Chick-Fil-A had the highest commitment score of any restaurant (68) in the study, meaning that people who like Chick-Fil-A are really loyal to Chick-Fil-A.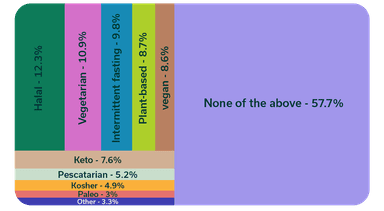 Can I get that without pickles?
Gen Z are a generation who know what they want, and feel confident asking for it. We found 75% of respondents regularly customized their order, and 84% of people had an order in mind before they even arrived at the restaurant. 
When asked about trying new menu items, 22% of people were self-professed adventure seekers who tried new things "very often", and only 1% said they "never" try new items. The majority of respondents (55%) say that they sometimes try new menu items, maybe because they're favorite social media influencer told them to...
Frequency of trying new menu items (%)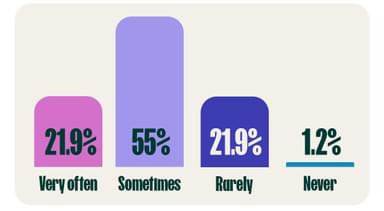 I saw Regina George order the Cranberry Turkey Burger, so I ordered the Cranberry Turkey Burger
While we're on the topic, it won't come as a surprise that social media has a huge effect on the ordering habits of Gen Z. 59% of respondents say they spent at least 3 hours on social media every day - with 9% saying they spend over 7 hours a day online.
All of this scrolling has a knock on effect; 75% of people order based on influencer recommendations, and 68% actively follow food bloggers or influencers on social media. The most popular influencer by far was Gordon Ramsey, followed by Keith Lee and Best Ever Food Show. 
Top most mentioned influencers

And Gen Z's favorite brands are....
Drumroll please!
Gen Z's favorite QSR brand is McDonald's, with an idea score of 81.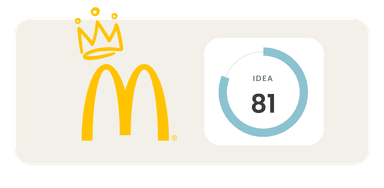 Following the Golden Arches is Subway (75), Starbucks (74), and Wendy's (70). At the other end of the scale, not quite hitting the spot for the youth is Panera Bread with an idea score of 44, followed by Papa John's (47) and Dunkin' (48). Though, when we filter for just respondents from Northeastern America Dunkin's score jumps up to 73...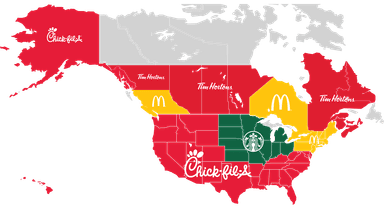 Canada
Quebec: Tim Hortons

Atlantic Canada: Tim Hortons

Prairies: Tim Hortons

Ontario: McDonald's

BC: McDonald's + Tim Hortons
USA
Midwest: Starbucks

South: Chick-Fil-A

West: Chick-Fil-A

Northeast: McDonald's
TL,DR
28% of Gen Z are vegan, vegetarian, or plant-based and only 59% look for QSRs that align with their personal values

75% of this generation customize their orders, and 22% like to try new menu items "very often"

75% of people order based on influencer recommendations, and Gordon Ramsey is their favourite influencer

After a hard day at work or school, 76% of Gen Z treat themselves with food or beverages at a QSR

61% order menu items when they're with a friend group just to socialize with them, even when they're not hungry

Top brands overall: McDonald's, Subway, Starbucks