The best market research gets to the heart of the why behind the buy. At Dig Insights, our belief in Decision Science drives the way we approach market research and the insights we gather for our partners. 
Decision Science focuses on understanding how people make decisions in the real world, knowing that attitudes don't predict behaviors and that decisions occur in context, for example. So when we launched our latest study on the sports viewing habits of North Americans, we couldn't help but wonder what feelings, emotions, and memories might be informing or affecting their viewing habits. And if these emotions are showing up in sports advertising at all.
Conducting the study and OTAP analysis
In August 2023, we conducted a study on our Upsiide platform with a total of 300 Canadian and American sports fans. Besides surveying  their self reported sports-watching habits, we asked one open-ended question:
"What is your favorite memory of watching sports?"
After gathering the responses, we used our proprietary Open Text Analytics Platform (OTAP) to examine the results. 
OTAP was purpose-built to analyze 'unstructured' verbatim data in more powerful ways than have been possible in the recent past. Thanks to OTAP, we were able to identify key memory themes and sentiments.
One of the ways that OTAP can identify those themes is its AI Insights feature. Powered by ChatGPT, this feature allows you to summarize or ask questions about uploaded data in real-time using an intuitive chat-based interface.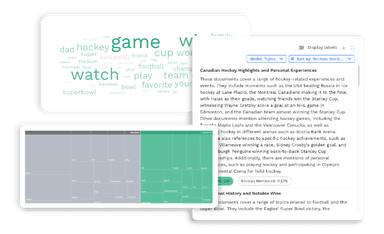 Study results and OTAP findings
The OTAP tool revealed some fascinating insights that demonstrate how sports advertising and merchandising build on fans' memories and associations, a classic marketing tactic. 
Some key themes OTAP discovered are:
Family and togetherness

Milestones and achievements

Nostalgia
After looking at the responses and conducting our own desk research, we noticed that each of these themes aligns with the tropes explored in modern sports advertising (e.g. TV ads, merchandise, etc.). 
With this research, we wanted to show that:
Thanks to modern AI-powered tools like OTAP, qualitative verbatim data is now as easy to analyze as any quantitative report.

Sports fans' personal stories and memories align strongly with what we see in media today, meaning that OTAP is able to be used to extract trends and sentiment in qualitative data.
A deep dive into each theme
1. Family and togetherness
We asked the AI tool to give us the big picture summary of the open ended question's responses. Here's what it told us: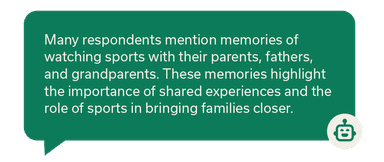 Here are some individual responses we extracted that align with the AI summary of this theme:
Watching the Cowboys with family every Thanksgiving
Just this past summer I was able to take my youngest brother to his first ever MLB game in Toronto.
As we read these responses, we noticed that they reminded us of the scenarios often explored in sports ads. For example, this comical ad by Pepsi is a good example of portraying the tradition of watching a game with friends. 
In the commercial, a group of friends (consisting of famous sports players like Eli Manning and Terry Bradshaw) is going on a road trip to Super Bowl LVI and gets various Pepsi and Frito-Lay snacks on the way. 
While the ad clearly taps into the celebrity power of the cast, it also shows that sports events are communal affairs and an opportunity for fans to spend time with friends and family (while eating their favorite snacks, of course).
2. The role of fathers
It's also interesting to note that the role of fathers and grandfathers is prominent in the fans' responses.
Watching soccer with my father. Every time they would be close to scoring he would jump up and yell out. It's one of my earlier memories.
Being young and watching hockey with my grandfather.
Going to a hockey game with my dad. He introduced me to hockey. I just remember it was special to just be him and I.
Here's how the OTAP AI tool summarized this insight: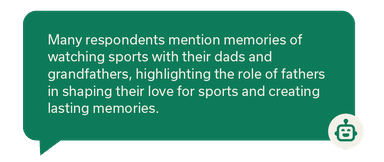 This commercial by Visa is a prominent example of how fathers are being depicted in sports advertising.
The story follows the growth of a young NFL fan, for whom the games coincide with key moments in their lifetime, such as a marriage proposal or having a baby. The young man then grows up, and his children and grandchildren now continue the family sports-watching traditions to the next generation. 
3. Nostalgia
Overall, the role of nostalgia is definitely visible in many responses in our study. OTAP described that theme like this: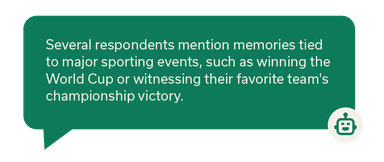 Topics of childhood and "the old days" are especially visible in these responses:
When I went to my first hockey game in my city at the age of 9.
My favorite memory of sports is going to my first NFL game and seeing my favorite (hometown) team play!
Watching the US Open at Arthur Ashe when I was a little girl.
Nostalgia isn't something new in the world of sports advertising. Retromarketing, i.e. a type of marketing that leverages nostalgia, is pretty commonly used by sports teams and other media entities even today.
For example, there is a growing trend for vintage merchandise and clothing, which many sports teams are hopping on. For the 2023 season, Orlando Magic brought back their "stars" jerseys that they wore in 1998-2003.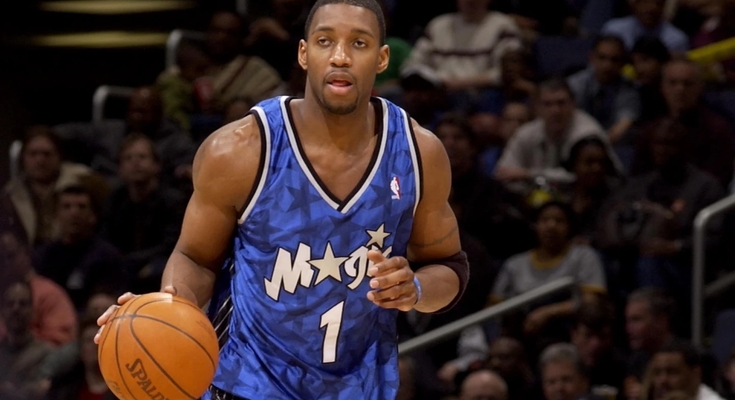 Similarly, to celebrate Argentina's win at the FIFA World Cup 2022, Adidas released an ad where Lionel Messi plays against younger versions of himself. It's evident that the ad plays into people's nostalgic feelings for the Argentinian footballer and how he evolved over the years.
So what does it all mean?
The connection between sports fans' memories and the tropes explored in sports advertising is strong. The most prominent themes that emerged from our OTAP analysis aligned completely with the messages that sports marketing teams used to sell products.  
But more than that, this study is a good demonstration of how modern market research tools can help brands identify trends in real life. Thanks to tools like Upsiide, OTAP and its AI Insights feature, researchers can identify the emotional drivers and dig deeper into the Decision Science of the consumer journey.
Take it from our VP of Trends and Foresight, Shelby Walsh:
"Dig Insights has a variety of tools to help you analyze qualitative data as effectively as quantitative data. We have a team that works together to determine the best approach to identify anything from trending products, claims or sentiments to top satisfaction & pain points using tools such as OTAP."
If you want to learn more about our OTAP tool or talk about an upcoming project, reach out to our team.