Last year Taco Bell opened a new out-of-this-world drive-thru restaurant in Brooklyn Park, Minnesota, which they called Taco Bell Defy. The restaurant is two stories tall and features a range of new things: digital menu boards, touch-screen kiosks with an ability to place orders via QR code, and even a mini elevator that brings your food to you directly from the kitchen.
While it's great when a brand tries out new features and functionality, it's not always scalable. That's probably why many of these extravagant concepts of "restaurants of the future" remain just that - concepts.
There are so many ways a quick-service restaurant (QSR) brand can innovate the ordering experience, but where should they prioritize first? What's the primary pain point people have when ordering fast food? And which new features will make customers visit any QSR more often?
These questions are at the heart of this study. We surveyed Canadians and Americans on our SaaS platform, Upsiide, about their ordering habits and asked them how they feel about each method of ordering. 
In this article, we're going to cover how people like to order from QSRs and why. Here are some details about the study:
Base size: 2000

Canada, US

18+

Male and female

Ordered from a QSR restaurant in the past 3 months
How do people feel about different ordering methods?
We focused on 5 types of ordering:
Drive-thru

At counter

An app offered by the QSR brand

An independent app

Touch-screen kiosk
When we asked North Americans to tell us which method of ordering they use the most often, in-person methods rose to the top. 53% of respondents say they go through the drive-thru usually or every time they go to a fast-food restaurant, and this number is almost the same for at-counter ordering (52%). 
In contrast, an independent app (e.g., Uber Eats) and a touch-screen kiosk are the least used methods, with 26% and 25% of people turning to these ways of ordering, respectively.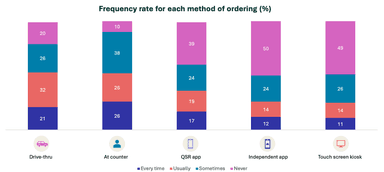 We then wanted to understand what would happen if a brand stopped offering these methods of ordering. As we learned from the previous insight, guests would be the most negatively impacted if the in-person methods were to disappear; 48% would find it challenging, and 58% said they would order less often from a brand if it stopped offering drive-thru. These percentages drop by almost half when we look at the independent app and touch-screen.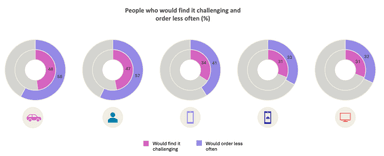 But the results are even more compelling if we look at different generations. Compared to all other age groups, Gen Z seems to be the most attached to in-person ordering methods. For example, 58% of Gen Z respondents said they would order somewhat or much less often if at-counter ordering weren't available. In contrast, the older a person is, the less likely they are to miss ordering at the counter - only 28% of Boomers say they'd order less often.
Traditionally, Gen Z is associated with being more attuned to digital exchanges that don't involve much human interaction. We're talking about people born between 1997 and 2012 - these people had iPhone 5 by that time! So we were surprised to discover that Gen Z is not only fond of the in-person ordering method but feels the most attached to it, as compared to other generations.
Why do people like certain ordering options?
This is where we wanted to gauge how people felt about each way of ordering. We asked consumers to pick descriptions that they associated with different ordering methods. Turns out there are some patterns in their responses: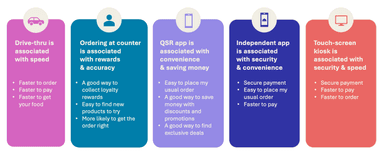 Each method of ordering is associated with things that they were best at. For example, the drive-thru is considered the fastest method of ordering, and the apps are considered easy ways for placing regular orders. 
It's interesting that people thought at-counter ordering is great for collecting loyalty rewards. Usually, rewards are something that is linked to an app experience (think: the Starbucks app, or partnerships that delivery apps have with other brands). So, if a brand incentivizes users to collect points while ordering at counter, they can connect 2 ordering methods and, overall, create a better ordering experience.
This question helped us see where ordering methods stand right now. But we also wanted to understand how they might evolve. For that, we turned to the Jobs-To-Be-Done (JTBD) framework. 
JTBD is a framework that helps organizations look at a problem from the consumer's point of view. The idea is to try to understand the task (or a job) customers want to accomplish with your product. For example, I might use a vacuum cleaner not because I want to clean my floors but because having a clean living space helps me maintain my mental health (and that's just one of many possible jobs). 
All in all, you can calculate how significant a job is to your consumer (a.k.a. the JTBD Score) by using importance and satisfaction numbers. The higher the score, the more significant the job is for the consumer - i.e. they find it very important but aren't satisfied with their ability to do it.
The top unmet needs that peaked in all ordering methods are related to speed and freshness of food. 
Consumers that use the drive-thru, QSR and independent apps feel they are lacking in their ability to "maximize how quickly they get the food." "Maximizing how fresh my order is" was a top unmet job for people that order at the counter, although others struggle with their ability to customize orders too. Touchscreen users feel a gap in their ability to "maximize how quickly they order food."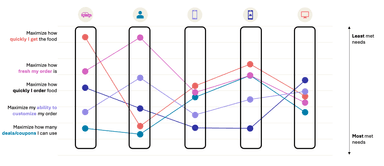 These JTBD results pose many opportunities for brands to do better. While it's hard to please everyone in every job, these jobs can be a good starting point to improve at least one aspect of the ordering experience. 
So what are the key learnings?
1. QSRs and vending machines are not the same
Taco Bell Defy, with its tiny food elevators, might sound and look cool, but it doesn't mean that restaurants should become automated machines. 
Especially among Gen Z guests, it doesn't make sense to take away the option to talk to a cashier. A need for a real life human remains, whether that be from ensuring customizations are done perfectly or simply a desire to connect with others.
2. While speed remains the top priority, brands need to prioritize freshness too
For the most popular ordering methods (e.g., drive-thru), how quickly an order can be made was one of the top needs. However, maximizing freshness was also one of the unmet jobs for several ordering methods (e.g., at-counter). Therefore, brands should never forget about delivering what consumers actually came for - fresh and delicious food. 
Discover more in our webinar
Curious to learn more about the latest trends surrounding the QSR ordering methods? Our Senior Manager of Insights, Daniel Dharmasurya, discusses the findings we mentioned above in our latest webinar. Click on the button below to explore more.