This year's pride month celebrated the 50th anniversary of the Stonewall riots. 
What began as a series of riots that served as a catalyst for LGBT political activism in the United States and ultimately the rest of the world, have now become a yearly gathering of members and allies of the LGBTQ+ community in honour of the 1969 Stonewall Inn uprising in the form of pride parades, marches, and festivals, among others.
With this growing movement for equality, inclusion, and gender diversity, brands and corporations, big and small alike, are increasingly trying to make their support more and more visible, especially during Pride Month. 
In Toronto, this can be seen with brands like TD, OLG, and Bud Light, sponsoring major stages during Pride Toronto. IKEA Canada released a rainbow-hued limited edition kvanting bag, and Lyft donated $1 for every ride taken during Pride to Casey House, Canada's first and only stand-alone hospital for people with HIV/AIDS. 
With this in mind, Dig Insights wanted to find out just how much of an impact these corporations' support and visibility during Pride have on consumer perception and buying behaviour. 
We partnered with Dynata and spoke to 1000 Torontonians about their awareness and perceptions of Pride and its sponsors. The results are in.
The Business of Pride
Approximately 1.5 million of those living in the GTA celebrated Pride month this year, and nine out of every 10 attendees were found to have enjoyed pride month. 
Our study shows that consumers have a generally positive perception of companies that sponsor Pride, associating them with being understanding, caring, and up to date. However, on the other side of the coin, pride sponsors are also perceived to be opportunistic, and simply riding on the trend. 
39% of the survey respondents support brands who sponsor Pride. This number doubles among LBTQ+ individuals, with 68% agreeing that they patronize brands that support Pride events. 
The report also reveals that the awareness of a company's Pride sponsorship is positively correlated with people's perceived 'fit' of the company with Pride, and what it represents.
This stands as a reminder that the fight for equal human rights and inclusivity isn't limited to the month of June, and the companies that reap the most benefits from openly championing LGBTQ+ rights are the ones that do so all 365 days of the year. 
Explore more results from the study through our infographic report.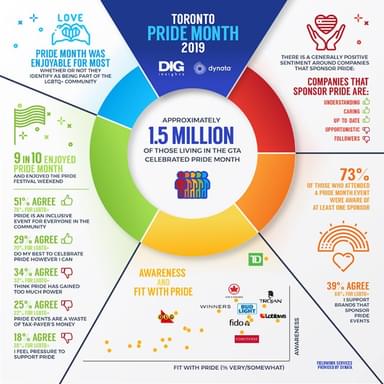 For more information about this study and to learn more about how being a Pride sponsor can impact your brand, please contact us directly at info@diginsights.com.