Inflation, inflation, inflation. It feels like everybody is talking about inflation and the economy right now.
This fear for the state of the economy is evident on the consumers' faces too. Our recent iteration of the Economic Sentiment Tracker in March 2023 revealed a trend that 50% of Americans think the economy is in bad shape, with the majority sharing that they are taking cost-saving measures for everyday purchases. 
In light of these economically challenging times, services like Buy Now Pay Later (BNPL) help consumers to ease the financial load. As a short-term financing option, BNPL allows shoppers to purchase and pay for things over time, usually with low or no interest.
We wanted to understand what exactly makes BNPL so appealing to American consumers and how they adopt it in their daily shopping. We also aimed to learn what items they would consider purchasing with this service and see what the BNPL persona looks like. 
In April 2023, we conducted an Upsiide survey with a representative sample of 1000 North Americans to understand their feelings about the BNPL service. The respondents first answered a few attitudinal and behavioural questions. Then they went through an idea screen exercise in which they were asked to choose categories they would buy with BNPL.
Base size: 1000

USA, Canada

18-65

Male and female

Own a credit / debit card or have a savings account
North American Awareness and Adoption of Buy Now Pay Later
Overall, North Americans are familiar with BNPL. More than 80% said they've heard about the service and are most familiar with brands like Afterpay, Amazon Payment Plan, Klarna and Affirm. 

Almost 6 out of 10 said they would consider using BNPL in the future. Consumers would consider BNPL primarily to help with budgeting and making large & emergency purchases. But rejectors wouldn't consider the service to avoid debts and interest fees.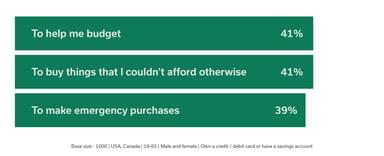 BNPL is also gaining high usage rates. 43% of respondents said they used BNPL in the past. And out of those who used the service, more than 80% would recommend it. It's interesting to see this fondness for the service, especially since over half of the respondents have used BNPL 2-5 times. 
Consumers also note that BNPL helps them feel more at ease about their shopping:
It makes life a little easier when you know your payments are spread out. It gives you like a safety net.
It's a good service that makes you feel more confident and at ease when purchasing products and helps manage cost.
In general, consumers also have positive views on BNPL. Over 80% of North Americans think BNPL is helpful and easy to use. However, 72% also believe that it encourages impulsive thinking.
After analyzing the results, we developed customer personas to bring the people who would and wouldn't consider BNPL to life.
The Big Spender 
This group of consumers is very or somewhat likely to consider using BNPL in the future. They are especially attracted to the service because they believe it can help them make more expensive and emergency purchases and make those expenditures fit into their budget. 
They are also more likely to use the BNPL services when they shop for higher-priced items with a long lifespan, like electronics, large appliances and furniture.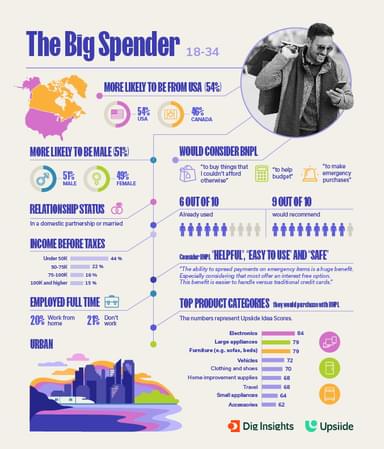 The Debt-Adverse Shopper
The rejectors of BNPL are those who said they are somewhat or very unlikely to use the service in the future. This group is resistant because they don't want to accumulate debt after using the service and wish to avoid the interest fees that may be involved.
If this group was offered a BNPL option, they would be more likely to use it to purchase large appliances, vehicles or electronics. However, they are much less keen on using the platform for shopping. Hence the Idea Score numbers are lower than average.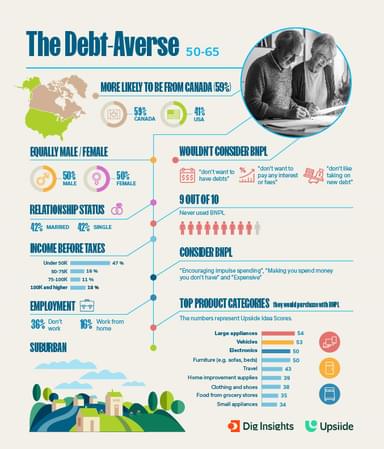 Expensive Necessities: How North Americans Shop with Buy Now Pay Later
So what categories would North Americans shop for using BNPL? 
In general, the top 3 categories people would shop for with BNPL are electronics (with an Idea Score of 74), large appliances (72) and furniture (71). These are "big-ticket" items that require significant investment and can last long.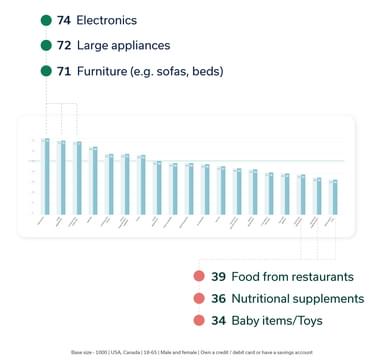 In contrast, the lowest-ranking categories include items that aren't widely used by everyone (e.g. baby toys) and discretionary purchases (e.g. food from restaurants).
When we looked at Upsiide's Idea Map, we discovered that there's a large segment of consumers that uses BNPL for expensive necessities.
The Idea Map clusters ideas that share common characteristics. We found that it groups ideas into two segments: 
Big purchases (e.g. furniture, travel)

Small purchases (e.g. toys and games, food).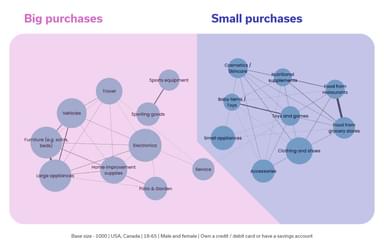 This means that people who use BNPL are more likely to use it on 'connected categories.' For example, vehicles, furniture, and large appliances are grouped together with thicker lines showing that consumers are considering BNPL for large, more essential purchases. 
If a financial institution or brand is planning its offerings, it should strategize them along these groups. In this example, if a brand already offers BNPL for large appliances, they should also provide it for furniture. This way, the brand is more likely to attract a larger group of customers.
To sum up
In the age of inflation, Americans are definitely feeling uneasy about the state of the economy. But our study revealed that the Buy Now Pay Later service is something that helps them feel more confident about shopping and eases the load of their finances. 
If you want to see the study for yourself and learn more about consumers' attitudes toward BNPL, you can access it on the Upsiide platform at the link below.