Are Your Consumers Struggling, Adapting, or Thriving?
We set out to understand how the dramatic rise in inflation that has occurred since early 2021 is impacting consumers both practically and emotionally. We were driven to provide insight into how consumers' behaviors are changing in the face of rising prices and how inflation is impacting over forty different products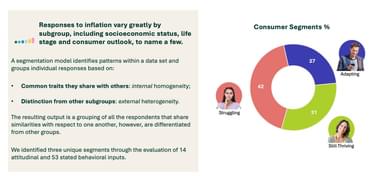 Many consumers have been hard hit by inflation, not just financially but emotionally as well. Close to three-fourths say their income is not keeping pace and approximately half feel they are worse off financially compared to one year ago. The stress and feeling of being overwhelmed are very real for many consumers.
But consumers are also proving to be resilient and resourceful as they adapt to stretch their budgets and adjust their priorities. While the impact of inflation is showing up in changing habits and shopping behaviors across a wide range of products, the challenge of helping consumers cope with inflation also provides a renewed imperative for brands to better connect with their existing customers and opportunity to win over new ones.
To understand how you can best help your customers, make sure to download The Great Inflation report. In it you'll learn about:
Their switching habits

The cutbacks some consumers are making

The categories most impacted by inflation

What this all means for your brand and how you can help your customers through these challenging times
Find Out How Inflation Is Impacting Consumers