Dig Insights recently launched Upsiide, "Tinder for ideas" – a mobile-first idea screening app. The Upsiide interface asks respondents to swipe right or left to indicate if they like or dislike individual products / claims / brand names etc.
The primary purpose of Upsiide is screening ideas to identify which ideas are most / least appealing (among the total sample and specific sub-groups).
Market Mapping
We wanted to determine if we could push the Upsiide data further and use it to "map" a market; i.e. understand how products interact. Some markets structure based on brands, others by flavor, size, price, etc. Knowing how a market structures is critical to effective innovation, pricing strategy and communication.
For this sample test, we used Upsiide to assess several in-market protein-based snacking SKUs. The Upsiide tool auto-generated the map shown here.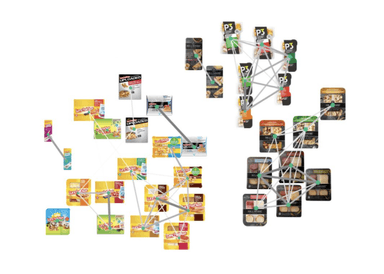 This reveals some interesting insights:
P3 structures based on the nut inclusion – the SKUs containing peanuts sit together and the SKUs that feature other nuts (cashews, almonds) sit together. The brand does not structure based on meat type (i.e. we don't see the chicken SKUs sitting together, the turkey SKUs sitting together).

Lunchables launched a 100% juice subline (the green packaging in the map). These SKUs do not sit together. Instead the 100% juice pizza variant sits next to the regular pizza variant and the 100% chicken poppers variant sits next to the regular hotdog variant. This indicates that the 100% juice idea is not big enough to create a distinctive subline. In contrast, Lunchables Uploaded (the grey packaging in the map) does break out as a distinctive subline. Screening these ideas prior to launch would have identified Uploaded as the larger idea. This is consistent with in-market volumes across the different Lunchables sub-lines.

Hillshire Snacking small plates includes four Salame SKUs. They all interact highly. The Latin Fiesta, Tuscan Flair and Rustic Harvest SKUs are more differentiated. This demonstrates how a mix of evocative naming and ingredient naming can broaden appeal.

Hillshire Snacking has failed to create a cohesive brand. The two sublines of Hillshire Snacking (small plates and chicken bites) do not sit together on the map. This might be a good thing for a massive brand, but is a weakness for a newly-launched brand.